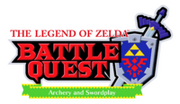 Legend Of Zelda Battle Quest is a attraction based off of legend of zelda (series)

Controls
Gamepad
ZL & ZR Dodge
Right Analog Stick Shoots Bow
Left Analog Stick turns yourself

Player Differences
P1 Green
P2 Blue
P3 Red
P4 ?
P5 ?

Enimies
Chuchu (red)
Moblin
Wooden Shield Moblin
Bird that gives hearts when defeated
power ups
Levels
They're's a total of 15 levels 9 normal & 5 secret
Normal
The Grasslands
 The Lost Woods
 Grassland Temple
 Road To The Goron Mines
 The Forest Temple Hunt
 Death Mountain Climb
 Gerudo Fortress Trail
 Ganon's Castle Approach
 Raid On Ganon's Castle

Secret Levels
 The Sacred Grove
 Journey To The Fire Temple
 Death Mountain Path
 Battle Of Hyrule Field
 Ganon's Last Stand
What's the best normal level
What's the best secret level
Trivia
Ad blocker interference detected!
Wikia is a free-to-use site that makes money from advertising. We have a modified experience for viewers using ad blockers

Wikia is not accessible if you've made further modifications. Remove the custom ad blocker rule(s) and the page will load as expected.